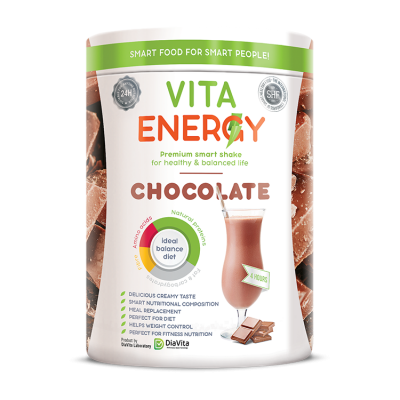 The Vita Energy products is a series by the Dia Vita brand. They are supposedly natural shakes that are said to be rich in amino acids, proteins, minerals, and other beneficial substances. Their main function is to serve as an effective dietary supplement to help the average consumer get rid of excess calories. A detailed study of the soluble drink, however, failed to find that the weight loss agent is capable of delivering the promised effect.
Every young person wants to maintain a top physical shape with minimal effort. Our increasingly sedentary lives rarely allow us to participate actively in sport or other physical activity. Walking in the mountains is also a form of luxury or pleasure, which we allow mainly during the weekends. How then can we achieve the perfect flat and tight belly?
The truth is that no matter what type of method you decide to use, you will have to endeavor to include some form of physical activity, even if it is simple yoga exercises or gymnastics from home. Adhering to a proper and healthy diet is also a key factor.
The Vita Energy series offers a wide range of soluble beverages for active digestion. They are said to contain a great variety of substances that are useful to the body, although this has not been confirmed by specialists.
Let's look at their composition in more details.
Vita Energy By Dia Vita – Does It Really Work?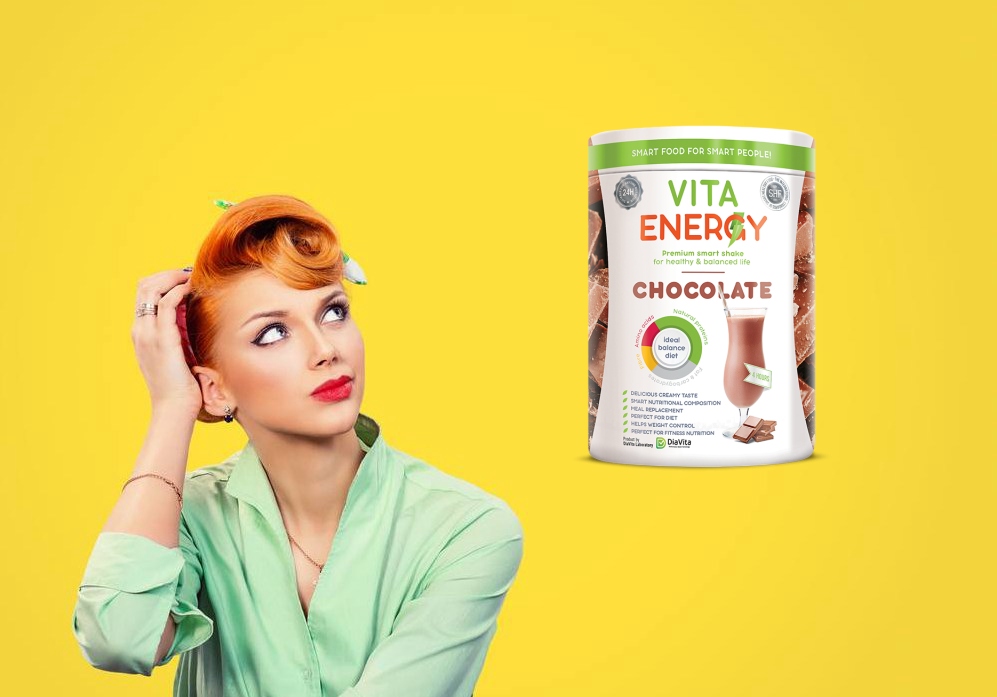 The dissolable slimming shakes Vita Energy include the products Vita Energy Chocolate, Vita Energy Vanilla, Vita Energy Strawberry, Vita Energy Green Coffee, Vita Energy Banana, Vita Energy Dark Chocolate, Vita Energy Tropical, Vita Energy Acai Berry, Vita Energy Tiramisu, Vita Energy Goji Berry, Vita Energy Coconut, Vita Energy Cookies.
Their names suggest the active extracts inside them. They are said to have been created by leading dietetics specialists, but this can not be confirmed by the information that is available on the Internet. Their primary purpose is to help people get in a better shape, by nourishing the body with important elements that will give the organism enough energy to function properly.
This is supposed to happen by suppressing appetite, regulating the levels of good and bad cholesterol, strengthening the immune system, and improving general health.
For the time being, there is no concrete evidence to fully confirm or reject the possible action of the soluble slimming shakes. They may have a positive effect on the human body, but it is not totally excluded to also cause unpleasant allergies or other side symptoms.
Vita Energy Shakes – Composition
The specific content of the individual powders for achieving a flat stomach and a thin waist depends on the variety of the products. They can consist of active extracts of vanilla, green coffee, yogurt, coconut, banana, black chocolate or tiramisu.
The description of the products packaging claims that they are also rich in nutrients from the groups described below, with no added gluten, coloring, GMO or aspartame. This fact can not be fully confirmed. The active ingredients should be:
Proteins;
Dietary Fiber;
Useful Fats;
Carbohydrates;
Vitamins;
Minerals;
How to Use?
The advertising brochure of the weight loss shakes Vita Energy claims that they are suitable for all age groups. Can be used by hosts and athletes. Pregnant women and adults in advanced or growing age should be alert to them, as the safety of the Dia Vita series is still not well established.
The preparation of the soluble powder for top form does not take long. With the meter included in the pack, take one tablespoon, then mix the substance in 150-200 ml. hot water or milk. Consume it twice a day – before breakfast and dinner.
Recommended Alternatives for Exquisite Figure
The efficacy of the Vita Energy slimming shakes can not yet be confirmed or rejected. While this happens, we recommend you to try using the CocoSlimmer green coffee, which is definitely one of the best products on the market. Get your dream figure and start enjoying a fast-paced metabolism and energy streams. Get into shape in a healthy way!
Vita Energy
Product Quality

Effectiveness

Customer satisfaction
Summary
The Vita Energy series of Dia Vita slimming shakes are supposedly natural soluble drinks to achieve a thin waist. The action of the products can not be verified at this time. It is claimed that the sachets suppress appetite and induce good mood, but until more specific facts come out, we cannot recommend them as safe for regular and widespread use.